Bolton Abbey to Grassington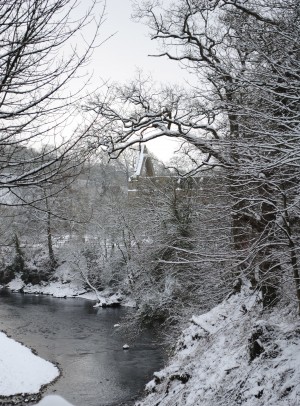 A customer emailed this week about a potential commission – he lives in Ilkley in the Wharfe valley and would like something relevant to that area. Like most of us I'm a creature of habit and I tend to visit, and revisit many of the same places. This can be a good thing in that I gain an intimate knowledge of a landscape and will paint it many times; but it means too that other, equally beautiful places, places that are on my doorstep, go unvisited and unpainted and the lower Wharfe valley is, until now, one of those places.
I drove down there this morning after a night of snow and it was enchanting – at times cloaked in mist, and then bathed in the most glorious sunshine and brought into the sharpest detail – ancient field systems unveiled by the low winter sun.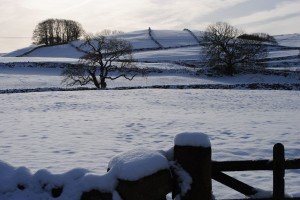 I might well have put this post in 'In the Footsteps of Turner' as the great man visited Bolton Abbey many times; in fact the whole area made a lasting impression on him. Ruskin, the 19th century English art critic and social thinker, said that no matter what Turner painted in later life, he was always influenced by memories of "the chanting waves of the Wharfe".