Fountains Abbey (In the Footsteps of Turner)
I've been working on the 'In The Footsteps Of Turner' exhibition . This study is of the World Heritage site Fountains Abbey which I have painted many times. Turner sketched and painted the ruin in 1797 and again in 1816 when making illustrations for Thomas Whitaker's never to be completed, 'General History of the County of York'.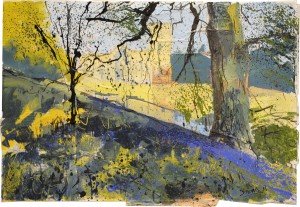 One of the sketches, Turner chose to develop into a finished watercolour, which he exhibited at the Royal Academy of 1798 as The Dormitory and transept of Fountains Abbey – Evening (now in York City Art Gallery). Turner's identification of the subject however was wrong – the painting in fact shows the cellarium and the end of the refectory to the right. An odd viewpoint to choose one might think until one becomes aware that fishing rivalled painting in Turner's interests (he was even reputed to have an umbrella that turned into a fly rod. Fantastic!) and near the centre of the picture, on the riverbank, are two figures, one of whom carries a fishing rod. From my own experience of sunny days at this very spot I can attest to the presence of a healthy stock of wild brown trout. Perhaps the young Turner cast a line and provided himself with supper that evening!
My own study is a more distant view from the east, looking across the same stretch of the river Skell and showing the great east window and to the right, Abbot Huby's tower. In what is a departure for me, I've used acrylic paint as apposed to my more usual oils. The paint is laid over collage and I've used ink to add strength to the darker tones.
Fountains has always been a part of my life: I picnicked there as a child, I drew in the grounds when I was a student, I walked there with my daughters Kate & Lydia and we took David Berkeley and Jordan Katz there one sunny afternoon the day after they'd played a gig at the gallery. I love the green man carved above a lancet window on the east side, the warmth of the stone in summer, the tales of hauntings and of course, the beautiful wild Brownies!