A new painting in the 'In the Footsteps of Turner' series: In Hackfall Wood.
Set in a 350ft gorge near Ripon, Hackfall was bought in 1731 by John Aislabie, famous for his landscaping work at nearby Fountains Abbey and Studley Royal. Around 1750 his son, William, laid out the most dramatic section as a woodland garden. There are pathways, grottos, follies, springs and waterfalls on a grand scale, and Hackfall was one of the most important and famous managed landscapes of its kind and period in Britain.
The woods are now owned by the Woodland Trust and considerable work has been done since 2002 to recover this 'lost landscape' and to preserve the historic buildings.
The building in the painting is called Fisher's Hall and was built by William Aislabie in about 1750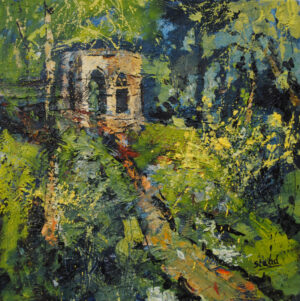 Turner did numerous drawings of Hackfall and recorded two subjects very carefully, both of which resulted in finished watercolours. First a view from Sandbed Hut looking downstream to the folly, Mowbray Castle. Second, from a high viewpoint where Aislabie built an ornamental banqueting house, taking in a panorama of the wooded gorge from the Vale of Mowbray to the Hambleton Hills.