Funny day yesterday – everything seeming to go wrong in the morning. By lunchtime I managed to get into the studio but even then, on a bitterly cold day, the damned wood-burner took ages to light and when it finally did, it refused to give out any heat. I didn't hold out much hope of producing any work.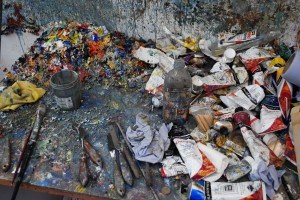 You just never know!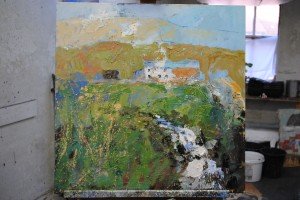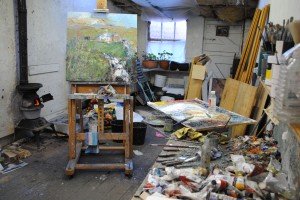 I re-visited this farm a couple of weeks ago after several years. I made a little drawing and a watercolour on the spot (see the watercolour & drawings pages) and made this painting from them. I liked the farm the first time I saw it about ten years ago. It sits just below Wild Boar Fell in Cumbria and is beautifully rough – there are old rusting gates filling the gaps in tumbledown dry-stone walls, there's an old knackered Landrover abandoned by the barn and farm machinery dotted about from another age. But what it is not, thank God, is 'restored'. I'm sure it can't be too long before the bloody estate agents get their meddling hands on it but for now it is a place of beauty.