In The Footsteps Of Turner
In 1797 the young Joseph Mallord William Turner (then aged 22) stood outside what is now David Stead Gallery and began a drawing of Kirkgate. He was in Yorkshire at the invitation of Edward Lascelles of Harewood House and the trip turned into an eight week tour of the north of England taking in many of its most iconic sights such as Bamburgh Castle, Durham, Rievaulx Abbey and of course Ripon Cathedral. The drawing is fascinating to me in that although he begins drawing the south side of the street from outside the gallery,  he moved across and thirty metres down in order to draw the north side and the cathedral which can't be seen from the gallery, thus widening the street considerably.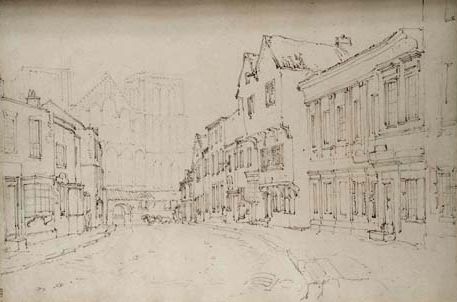 I was talking about this to André Romijn, publisher of Art Investor magazine and he suggested I do a series of paintings following in the footsteps of Turner.
Although I have painted many of buildings and landscapes Turner painted and, no doubt will again, I am looking forward to exploring those I have not, and maybe getting to know the man a little better through his work and the places he visited.
I've started the project close to home with a painting of a distant Ripon Cathedral from the south west. Turner by contrast chose to draw from the north east, a view which still lovely, has the river Ure in the foreground and to some extent echoes the watercolour he eventually produced of nearby Hackfall Woods. I also made a watercolour of Kirkgate and cathedral but this has been 'archived' which like purgatory is a kind of waiting room, though in this case the final destination often turns out to be the bin!